Welcome to the site of "Jukebox Restorers"
A website that I hope to fill with useful information, tips and my own projects from the past and present.
When I bought my first machine in 1990 I had no idea on what this would cause.
Ever since this first machine I had some kind of jukebox around.
Either for repairs or just because I liked the model.
I used to have more jukeboxes than furniture at some times.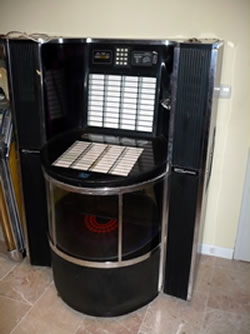 The first Machine I bougt was a SMC1 from 1978; I was just
17 at the time and saw this machine at a small antique store in Amsterdam and just had to have it.
Machine played well, looked in good condition, so I asked her
to hold it for me for 2 weeks.
After saving enough money to buy the machine I was able to make a deal including delivery.
I still remember the jukebox arriving at our home, I was still
living with my parents at the time and had a room in the attic……, ehm the machine didn't go up the stairs.
It just wouldn't fit, not even after taking it apart.
Because my Dad didn't want to keep the jukebox in his living room, we changed the stairs to fit the jukebox.
Basically we broke out 2 of the steps and finally got the jukebox up to my room in the attic.
I only enjoyed the jukebox for 2 weeks, because it broke down soon after the second week.
What now…
Today you would Google for some info or find a repair guy, but back then it took me a lot of effort and soon
found out this microprocessor controlled machine wouldn't be easy to fix. Some parts Seeburg used had a custom code making replacing components a lot more difficult.
It took me several months before I finally found a compagnie in the U.S. that was selling jukebox manuals.
I ordered a set for my SMC1 and after studying the schematics and measuring I was able to fix the problem.
I must admit I had some electronics experience as I tried to repair stuff ever since I was 12 years old.
I dragged stuff home from what I found on the street and learned the hard way.
Setting a small fire or making smoke signals along the way.
The SMC1 stayed with me for another 10 years before I was forced to sell it.
This was basically the start of me doing jukebox repairs or grade 1 restorations.
After the SMC1 I've had the weirdest machines in for repairs or restoration.
Mechanical, Electro Mechanical or Electronic, I've worked on all, from the 30's until the present.
I've never made a point of working on a particular make of jukebox.
Weird German creations or the uncommon American models.
For me the challenge is to understand how the machine works and bring a machine back to life.
I do not need to make a living from selling or restoring jukeboxes that does help.
I can spend as much time as I like.
Have your questions, send a email. Enjoy reading this website
Marcel Bogert